Trevor Lawrence, Quarterback, Clemson
As we begin to break down the prospects for the upcoming 2021 NFL Draft, many people are already using pen to ink in Trevor Lawrence as the consensus number one pick. It's up for debate if he is the best overall athlete in the draft so lets take a look at what makes Trevor a sure thing for the Jacksonville Jaguars at number one.
Stats/Awards
| | | | |
| --- | --- | --- | --- |
| Height/Weight | Hometown | Class | College Career |
| 6'6″, 220lbs. | Cartersville, GA | Junior | 2018-2020 |
Lawrence attended Cartersville, Georgia High School where he was awarded The Hall Trophy and The USA Today High School Football Player of the Year in 2017. Trevor has been a Clemson Tiger his entire college career. During his tenure at Clemson, he quickly took over the reigns of Dabo Swinney's offense. He stole the show from former starter Kelly Bryant who was forced to transfer off to Missouri. He was awarded the Archie Griffin Award and ACC Football Rookie of the Year in 2018 as a Freshman. Above all, He also won the National Championship in 2018 with a blowout win against Alabama. Trevor was named to First team All-ACC in 2019 and 2020 as well as being named the 2020 ACC Player of the Year. Lawrence was also the runner-up for the 2020 Heisman Trophy.
| | | | | | | | | |
| --- | --- | --- | --- | --- | --- | --- | --- | --- |
| GP | GS | Record | Comp | Att | Yards | Pct | TD | Int |
| 40 | 36 | 34-2 | 758 | 1138 | 10098 | 66.6% | 90 | 17 |
Trevor Lawrence College Career Stats (2018-2020)
Strengths
Being in a pro-styled offense in Clemson has made Trevor a machine when it comes to pre-snap adjustments and reading defenses. He has NFL veteran level talent in this area of work already.
Throws a fantastic deep ball. Getting Lawrence fast receivers will be key for his success as he has great placement allowing his wideouts to gain maximum yardage.
Not afraid to make a play. Trevor rushed for almost a thousand yards with 18 touchdowns while at Clemson on top of his impressive passing stats. Getting himself out of trouble may keep a young rebuilding team like Jacksonville in ball games later than expected.
Weaknesses
Overall throw accuracy could use improvement.
When Lawrence misses on his passes, he tends to miss long and high, creating easier turnovers.
Player Comparison
Comparing a possible generational talent to another younger quarterback does not seem right, but Lawrence and current Chargers Quarterback Justin Herbert show plenty of comparisons in my book. I think Lawrence deserves the edge in football IQ and his speed, but the rest of the two young studs are quite equal.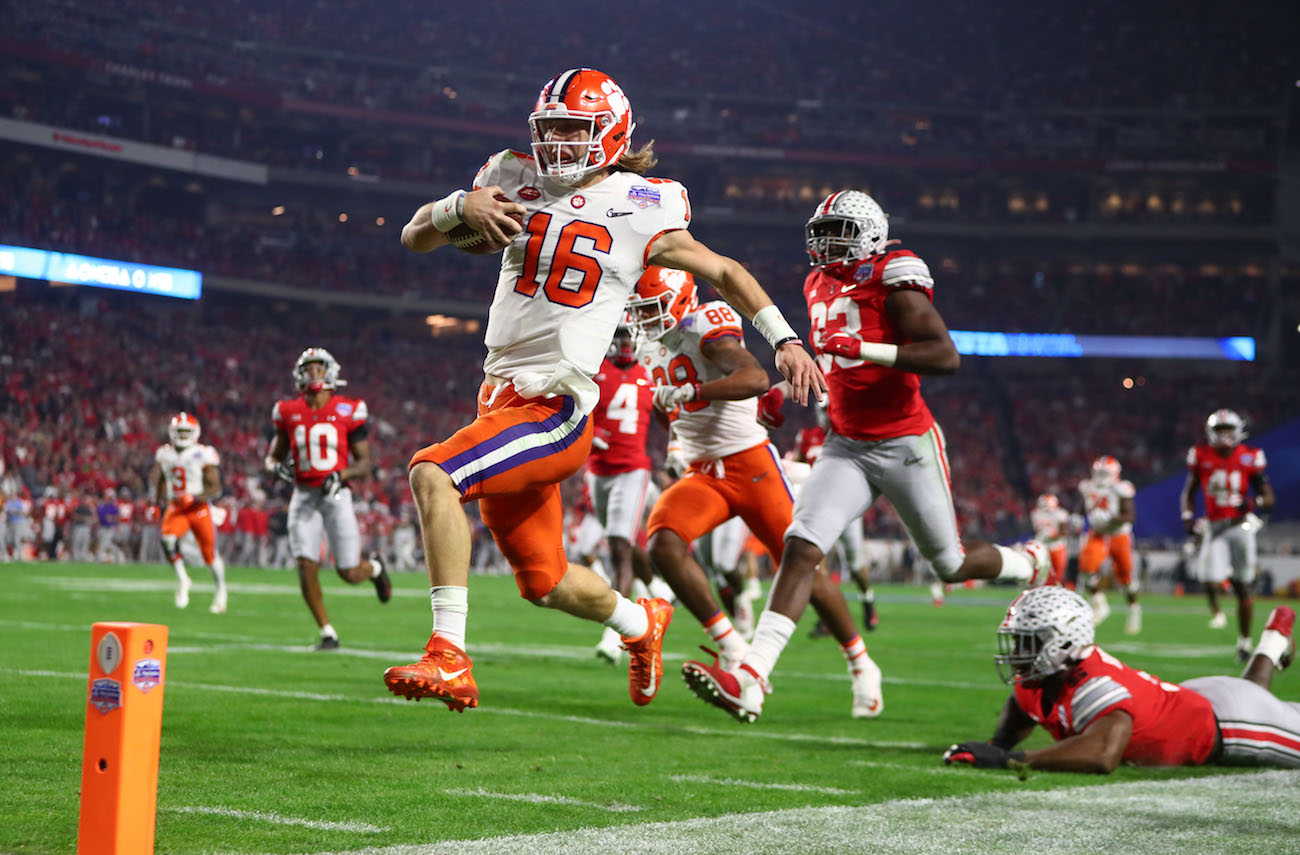 Round Projection
There is no doubt whatsoever that Trevor Lawrence is heading to Florida. He will join the Jacksonville Jaguars at number 1 in the draft. Former Florida and Ohio State Head Coach Urban Meyer took the job in Jacksonville because he knew he will have Lawrence to begin his reign coaching professional football. This is a no doubter across the board.
Final Thoughts
Trevor Lawrence has done nothing but awe critics, press and opponents since he entered the tough ACC Conference is 2018. Big named sports media could not get enough of what he did to Alabama in the National Championship game as a Freshman! As he enters the NFL Draft and is set to be a Freshman yet again, it will be interesting to see how he handles the fame and spotlight of professional sports. Most importantly, Jacksonville has a long way to go before they are a competitive football team, another thing that Trevor may not be use to. Watching him grow, become more of a leader, and be a complete sponge throughout the locker room is essential for this upcoming season.
The NFL Draft
Be sure to tune into the NFL Draft! Round one begins Thursday, April 29th, 2021 at 8pm EST. Follow along with SlasherSports on Twitter as we live tweet the entire draft (all weekend) and break down each pick, trade and transaction.