It's the classic battle between the technical counterpuncher and the brawler. Only 18% of their cumulative fights have gone to judge's decisions, so you know what that means….
Tale of the Tape
| | | |
| --- | --- | --- |
| Jamie Mullarkey | Fighter | Khama Worthy |
| Austrialia | From | USA |
| 26 | Age | 34 |
| 6'0 | Height | 5'11 |
| 74 in. | Reach | 74 in. |
| Orthodox | Stance | Orthoxdox |
| Magnus MMA | Team | The Academy Pittsburgh |
| | | |
Path to Victory – Mullarkey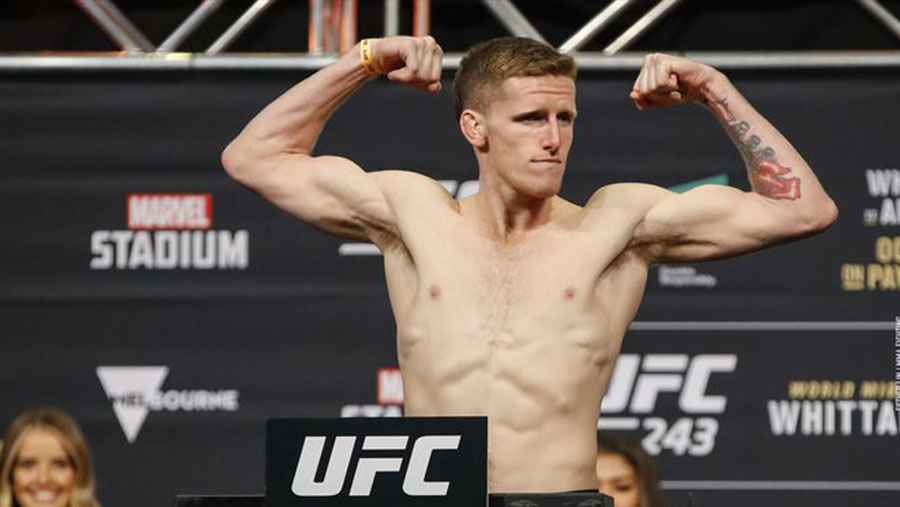 I dare you to find a boring Jamie Mullarkey fight. I'll wait. I can't wait too long though. Spoiler – you won't find one. Jamie Mullarkey might not be the most polished fighter, but he will drag you into a dogfight and make you earn your wins. In fact, Mullarkey hadn't taken any L's until he ran into eventual and current UFC Featherweight Champion Alexander Volkanovski.
Although some time has passed, Khama Worthy has suffered his share of knockouts. His flat-footed stance could be exploited by the agile Aussie to find the magic button to dreamland. Worthy has been finished by strikes 6 times, with 4 of those turning the lights out. Eight of Mullarkey's twelve wins have come via KO/TKO and that is his most secure route to a post-fight interview on Saturday.
Notice I didn't even mention Mullarkey's takedowns? Well, he has those too and his opponent, Khama Worthy is at least below average in the takedown defense department having only defended around half the takedowns attempted against him. If the KO/TKO isn't there, he has outs.
Path to Victory – Worthy
Though Worthy's flat-footed stance was mentioned earlier, he does make up for that with fantastic head movement, fast jabs and straights, and a recognition of striking distance. Worthy brings with him the recipe for defeating a fighter like Jamie Mullarkey and that is being a smart counterpuncher with power.
A notable scouting point against Mullarkey would be the rate of which he takes damage in the pocket. He isn't afraid to take a shot to give one. Worthy isn't afraid to trade, and often enough this has given him dire outcomes. This shouldn't deter him though, as we have witnessed Jamie Mullarkey come out on the wrong end of exchanges that he initiated.
Coming off a KO loss to Ottman Azaitar, one may assume Worthy will proceed with caution before playing Mularkey's game. A clean game is won by Worthy, and possibly by way of violent stoppage. Avoiding the dogfight and picking his violent moments will be serve Worthy and lead him to the win.
Nasty Nine Best Bets
I'm not nearly as down on Jamie Mullarkey as the books seem to be. I like his chances for a stoppage on Saturday and I'm willing to put up to 2 units on a KO/TKO finish. Mullarkey by KO/TKO or DQ +400
If you're not feeling Mullarkey like I am, Worthy by KO/TKO/DQ is almost as appealing at +210. The main idea here is no matter who you like, I don't think this one sees the cards, but betting that they don't go the distance has uglier odds than I want to put down.
Check out the baseball podcast from fellow Slasher Sports co-founder, Christian Rauh, Bringing the Heat
We are back after a few weeks off. How great has baseball been so far!? And How great has Corbin Burnes been ? Slasher Sports very own and host of the Nasty Nine Podcast Billy Graves Joins me to discuss the historic start of the Brewers Ace.